We are a small scale operation striving for the best Sport Performance Horses. Beauty, intelligence, agility, longivity, heartyness, and being unique is our standards for our breeding program. We cross some of the best well known breeds & lineage, to produce fabulous Sport Performance Horses that can do anything.


Our lines include:
Foundation Quarter Horse.....(Cutting & Reigning Backgrounds, *KING, LYNX, TAMU lines, NERO, SUGAR, WAGGONER, McCUE,
some Thoroubred breeding.....*MAN O WAR, JET DECK),
Polish Arabian.....(*BASK, EL PASO),
Foundation Arabian.....(*RAFFLES),
Foundation American Paint Horse.....(Ranch horse, *SILKY McTAVISH).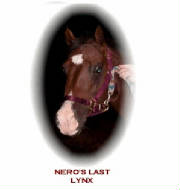 Foundation AQHA Stallion
1999 BAY STALLION
AQHA FQHR $300
NEROS ROAN x CHRISTY JOY LYNX